Alien Isolation is like owning a big, black cat, that hates you
It's beautiful and you love it, but as much as you want to, you can't keep it because it always tries to trip you at the top of the stairs.
Alien Isolation is probably the best looking game I have played so far. I am a fan of the original Alien movies (yes even the fourth one – shut up!) and no game in the Alien universe came even remotely close to capturing the look and feel of the movies (in this case, especially the first movie) so perfectly. That is why it's utterly frustrating for me that Alien isolation is a survival horror stealth game – even though it's a fitting choice. Again it's not a genre I am particularly fond of (but I like to keep an open mind), especially if it's so well done as in Alien Isolation. The intentionally cheap looking droids for example are a horrifying trip through the uncanny valley for me. Being spotted by one of them and starting to run straight into the arms of another one is impressively unpleasant. The sound design is great and knowing by the rumbling of the air ducts that a big, terrifying creature will probably turn up around the next corner, or from the ceiling or from a vent behind me, is exciting up to downright exhausting.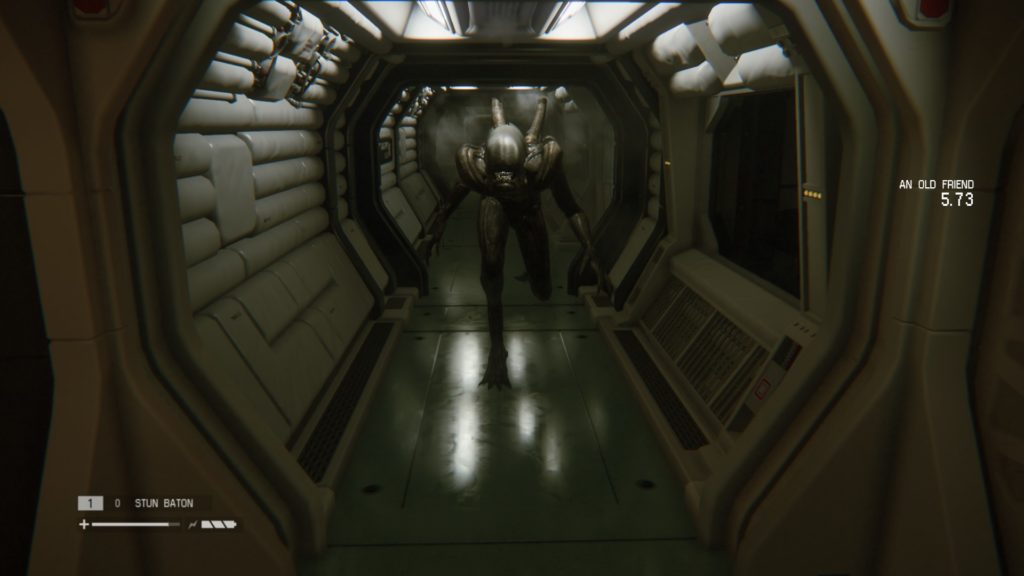 If it wasn't so good, I could enjoy it more
The game is so well done it had me at the edge of my seat most of the time I played it. It's just that I really don't enjoy feeling helpless and hunted all the time. I like games to provide me with the means to live out my basic power fantasies – stealth and horror games usually can't provide this. Yes, there are ways to fight back, but most of the time firing a gun got me into more trouble than running away screaming or just sitting in a locker, being grateful that the black monster does not seem to have a functioning nose.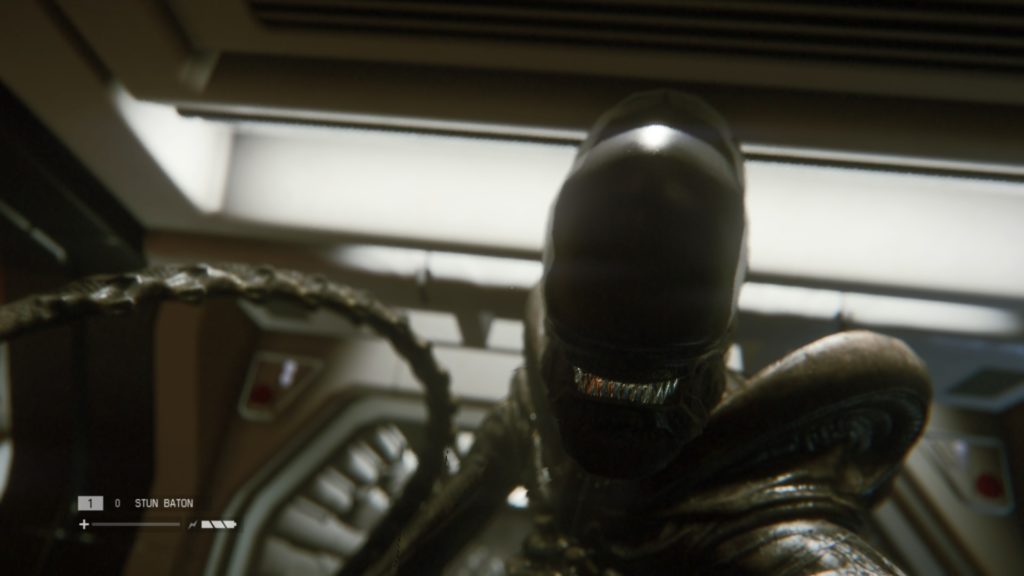 It's not just playing monster bait that bothers me, but I find that waiting in a locker, or a dark corner, or a vent, is rather boring. Especially in a game where you die often and that doesn't allow you to save anywhere. I understand that it's a design choice to only be able to save at certain points, because it adds a lot to the tension, but for a player like me it becomes frustrating fast. I don't enjoy finding the perfect route to get unseen through that corridor. I want to know what happens next. Stop killing me all the time and let me enjoy my space adventure!
Alien Isolation is a great game if you are into survival horror, and it's a masterpiece when it comes to set-design and atmosphere. Some time in the future, when I'm all grown up, I'll give it another try.